ReusePac reusable boxes and totes are made of virgin and recycled polypropylene (PP), biodegradable, compostable materials and plant based fibers in breakthrough and the simplest interlock mechanisms.
No welds, No glues, No Velcro, No buckles, No Accessories.
Fast one die-cut manufacturing.
Low costs from innovations.

Simple assembly,

strong and durable.
Light weight corrugated PP sheet.
No packing tapes. Self locking.
Easy wash & drying to sanitize.
Collapse fold to thin compact sizes.
Interlocked flap mechanism.
Snap fit panel binding.
Vertical flutes at all sides to take stack Loads.
C-groove to rod interlock corner posts for large containers.
Reusable Totes with No Welds, Velcro, or Accessories, Organizers at Home and Offices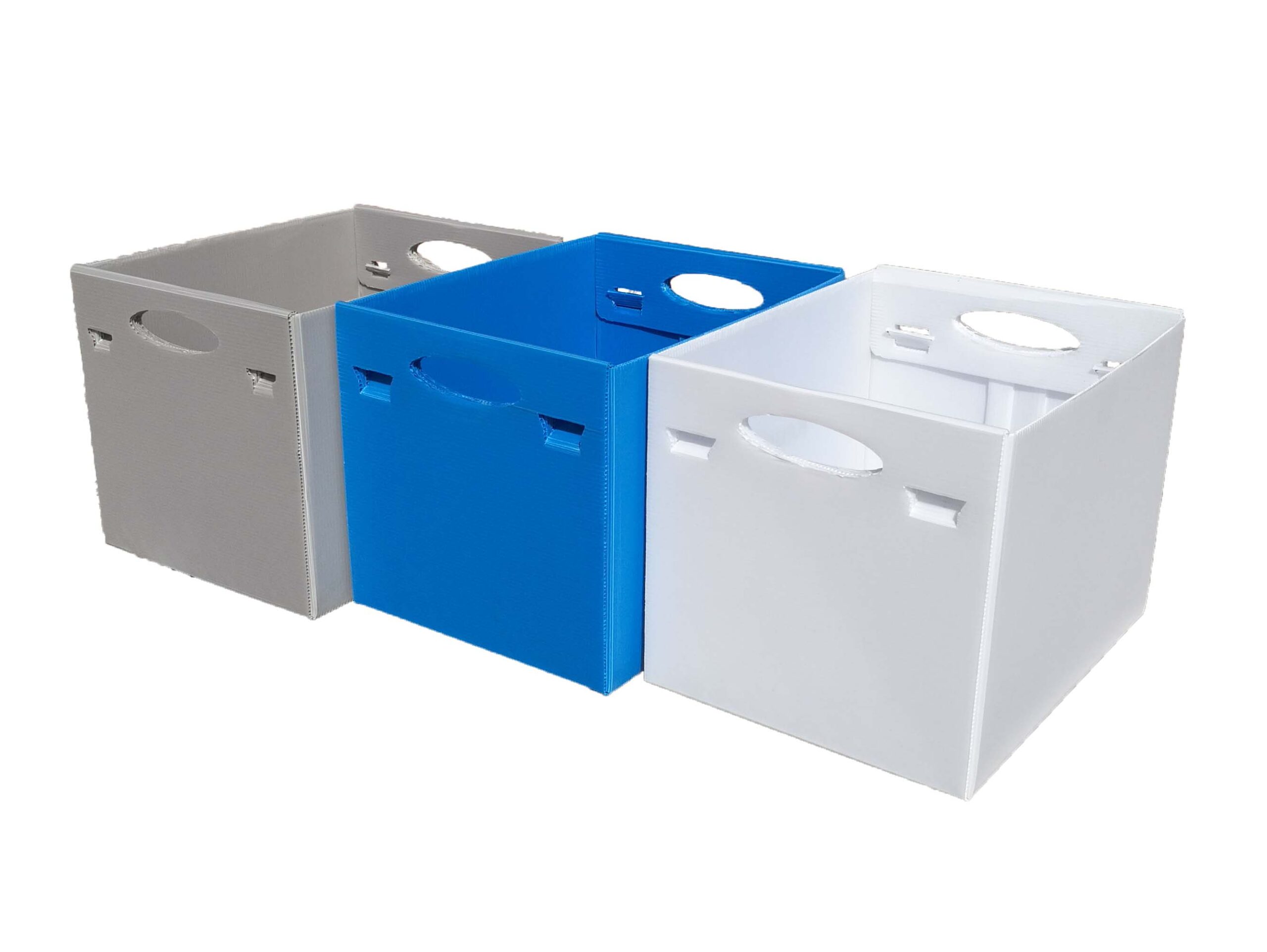 Tote Boxes with No Welds, No Glues, No Accessories. Made by One Step Die Cut.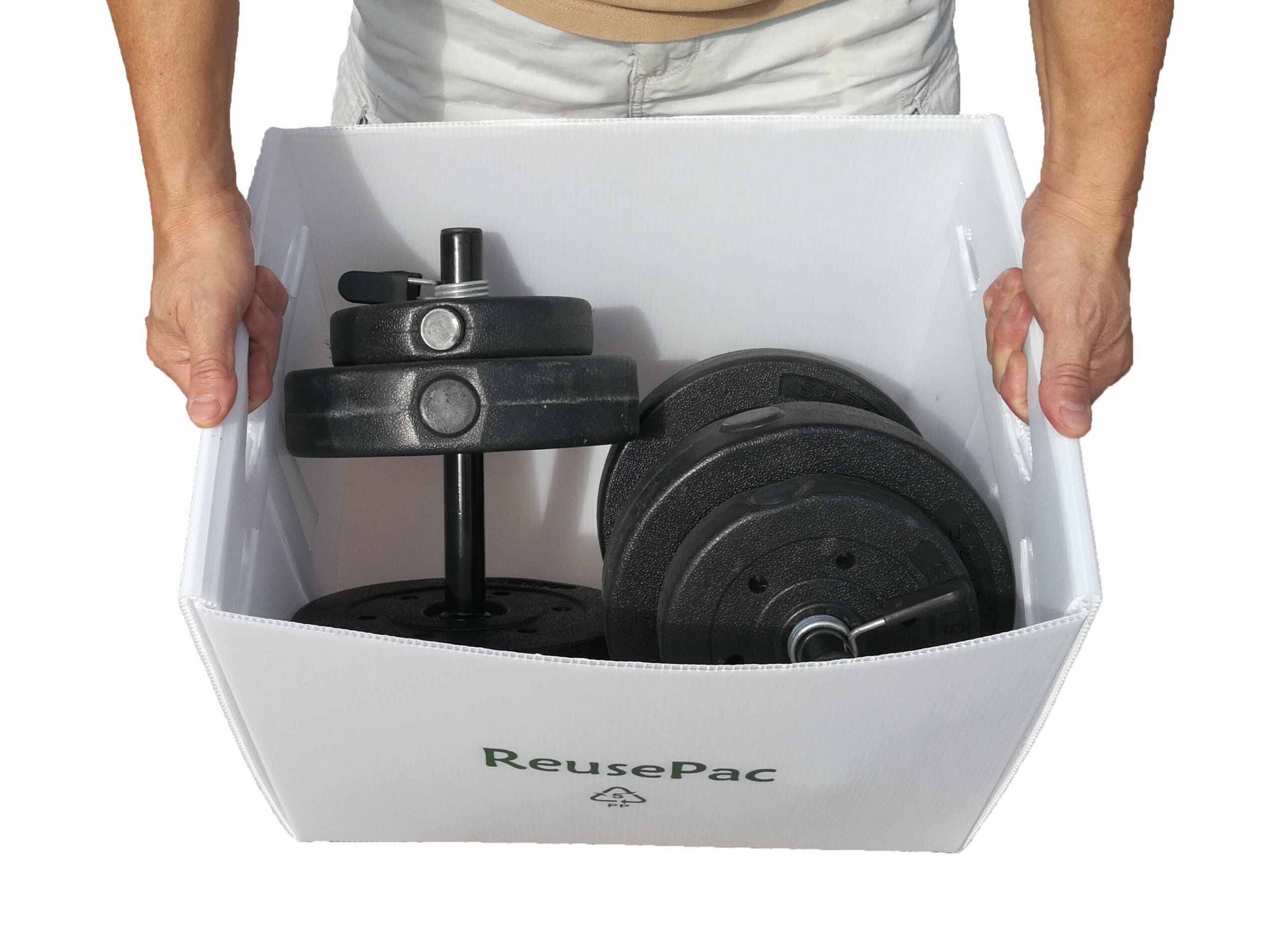 Strong and Durable Tote Box.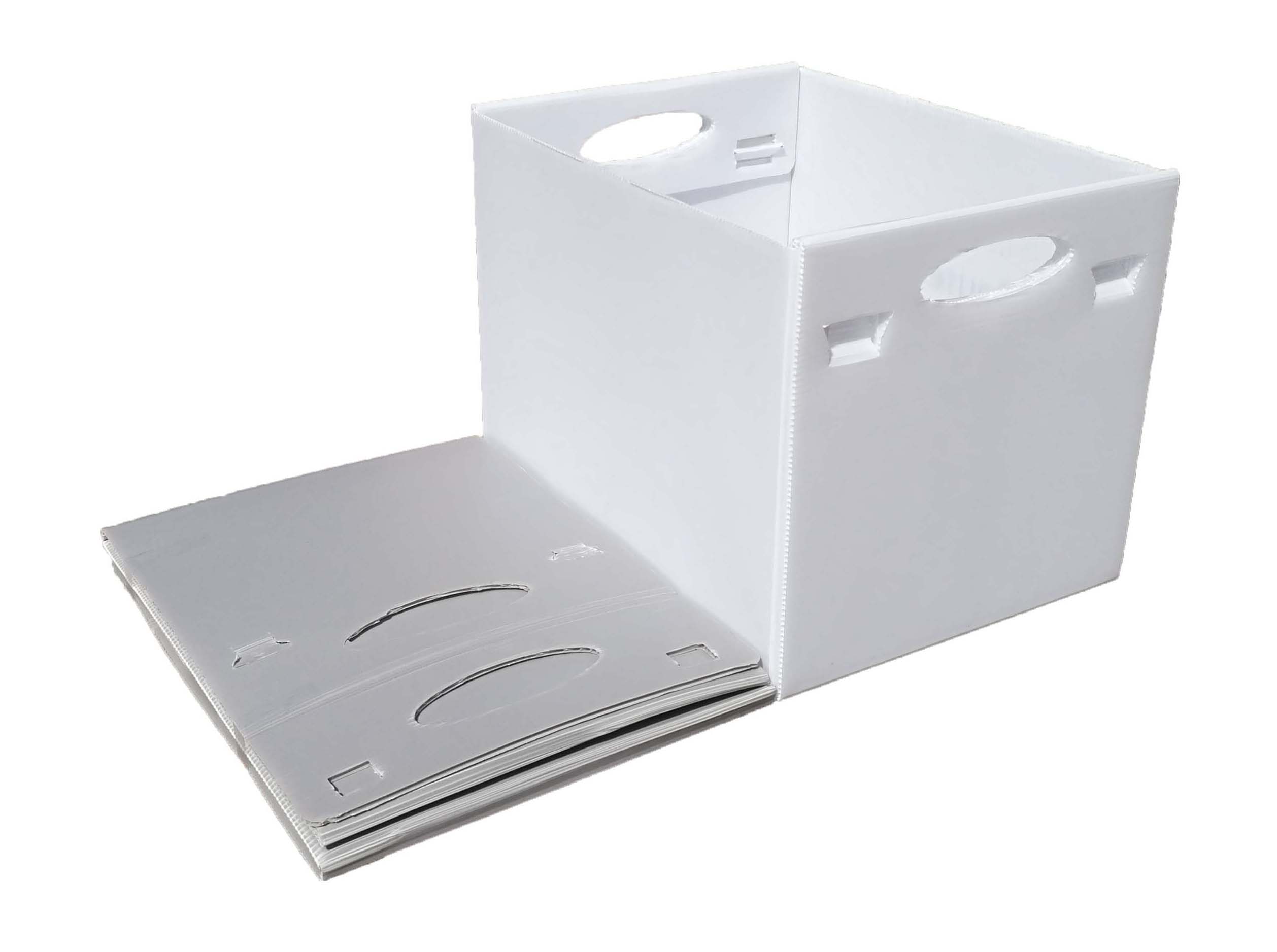 Collapse Folded to Thin Small Pack.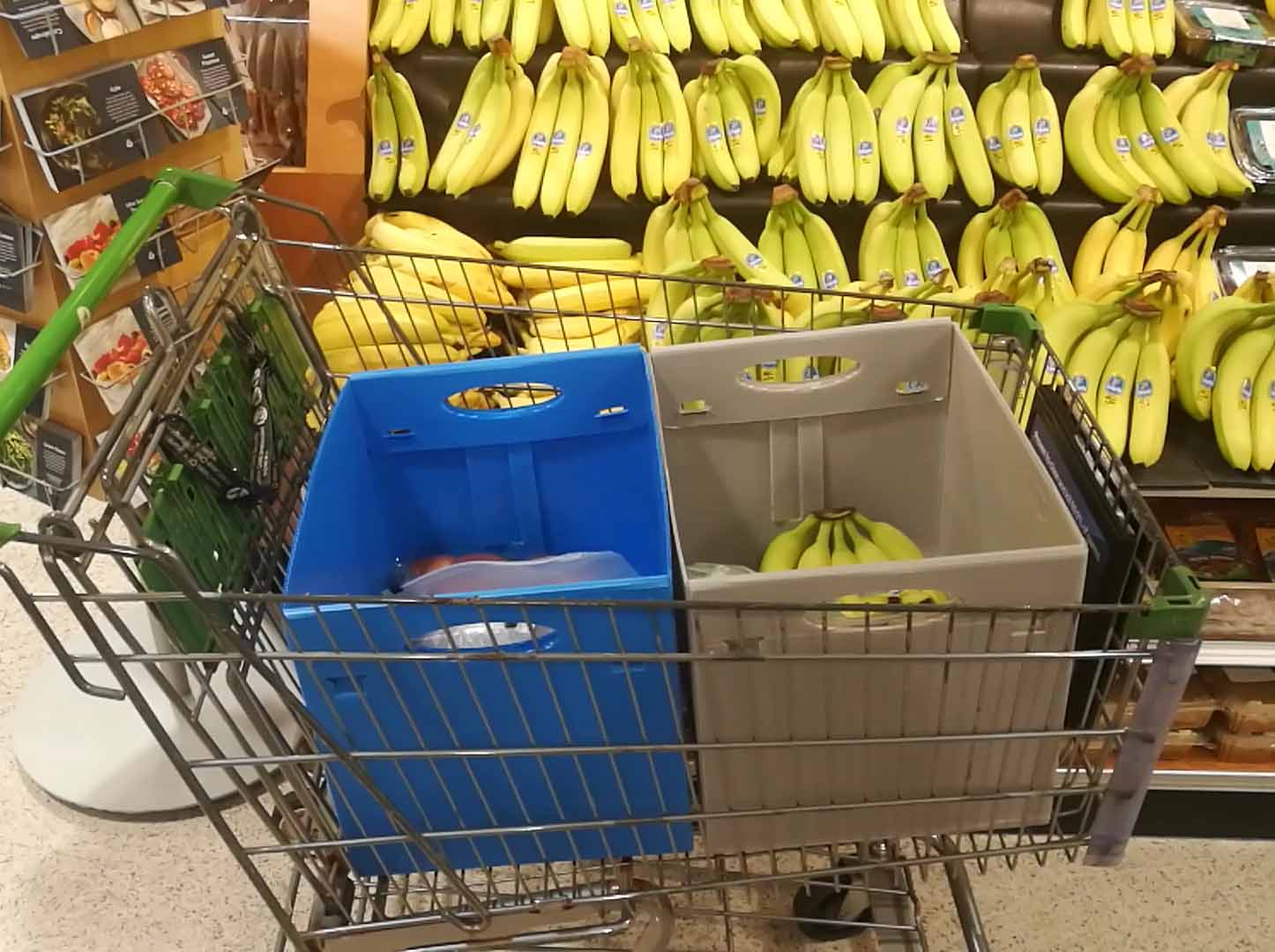 80% shoppers drive to groceries, best with light weight shopping totes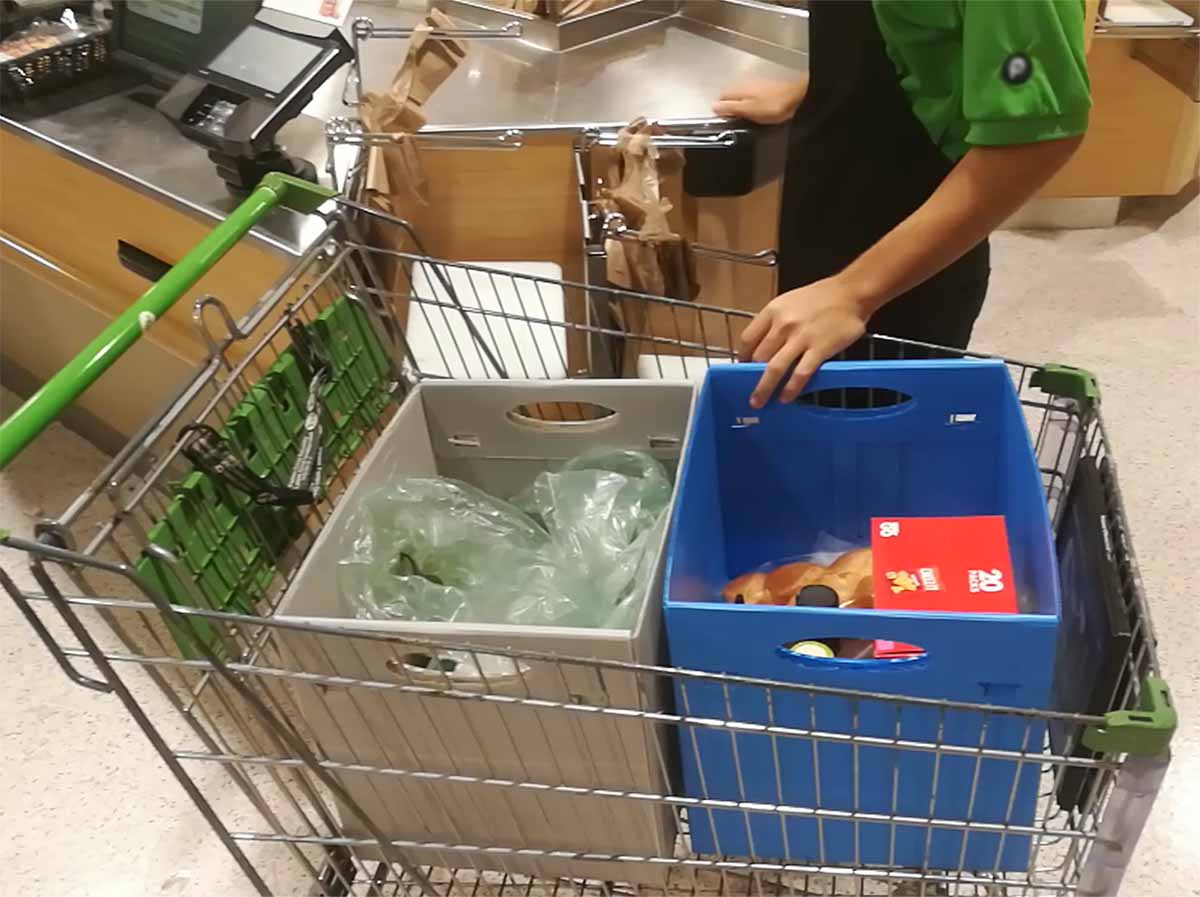 Check out with no more plastic bags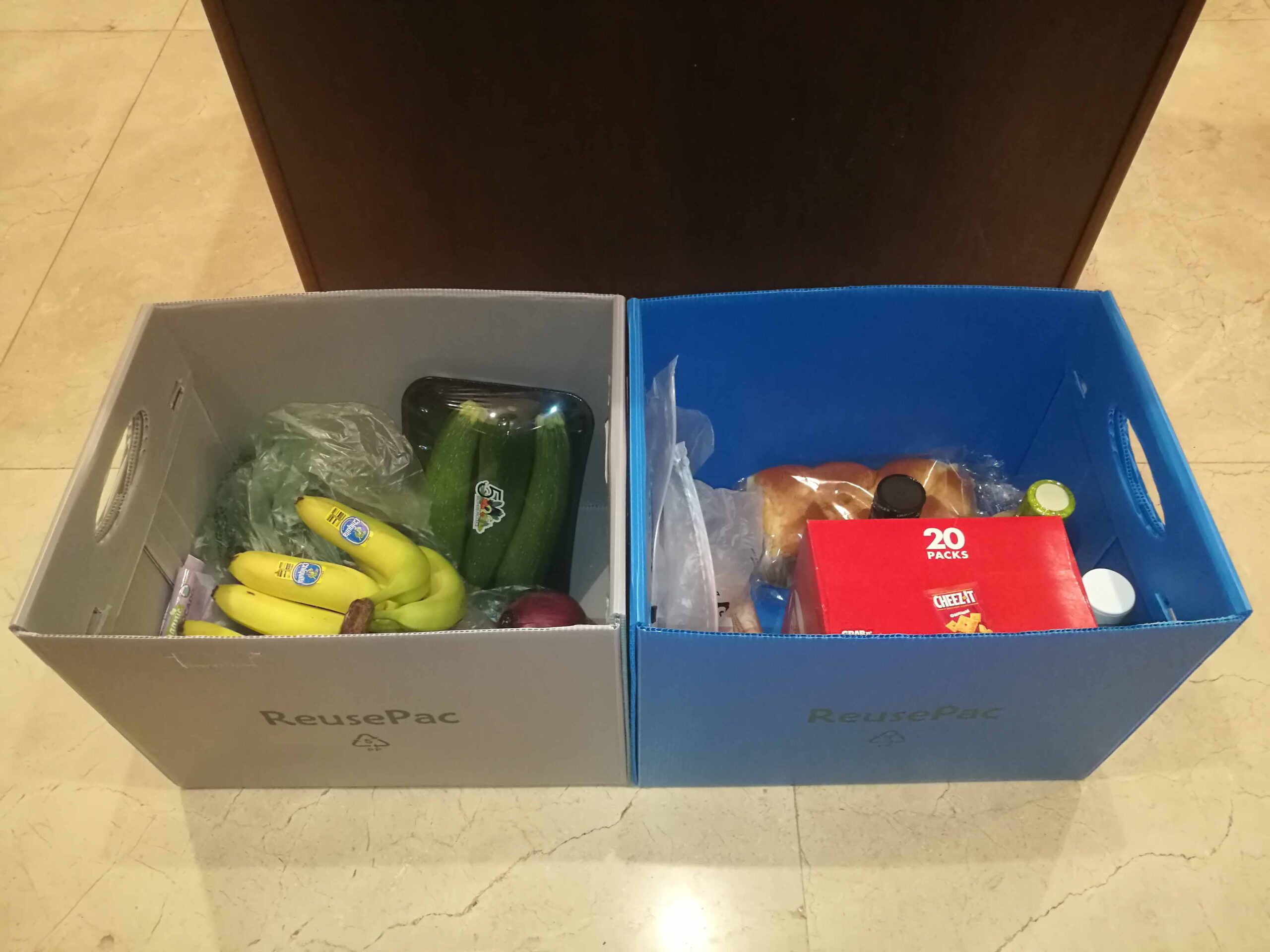 Back home. Groceries can sell the totes to consumers.
Interlocked Flap – Snap Fit Reusable Boxes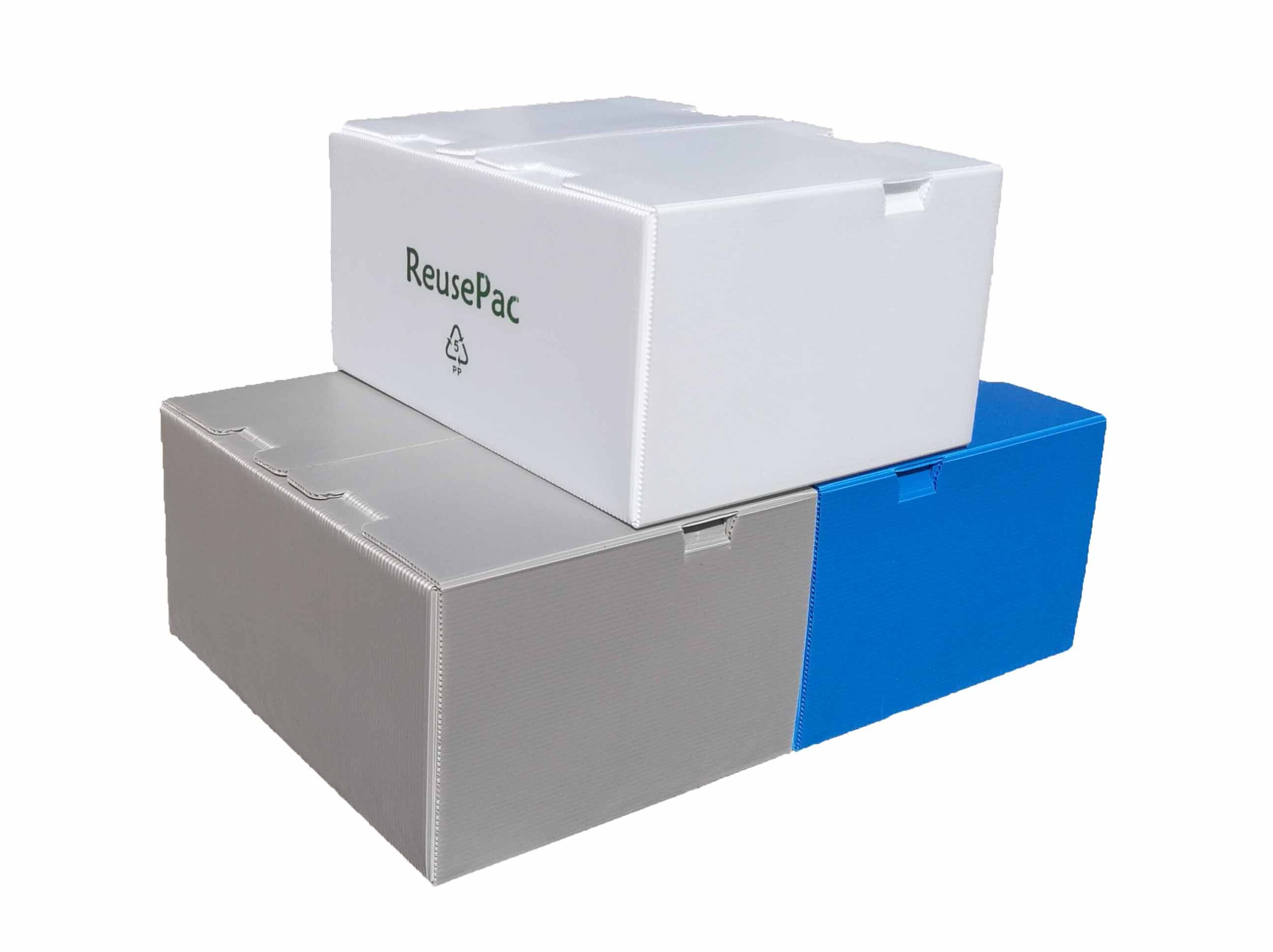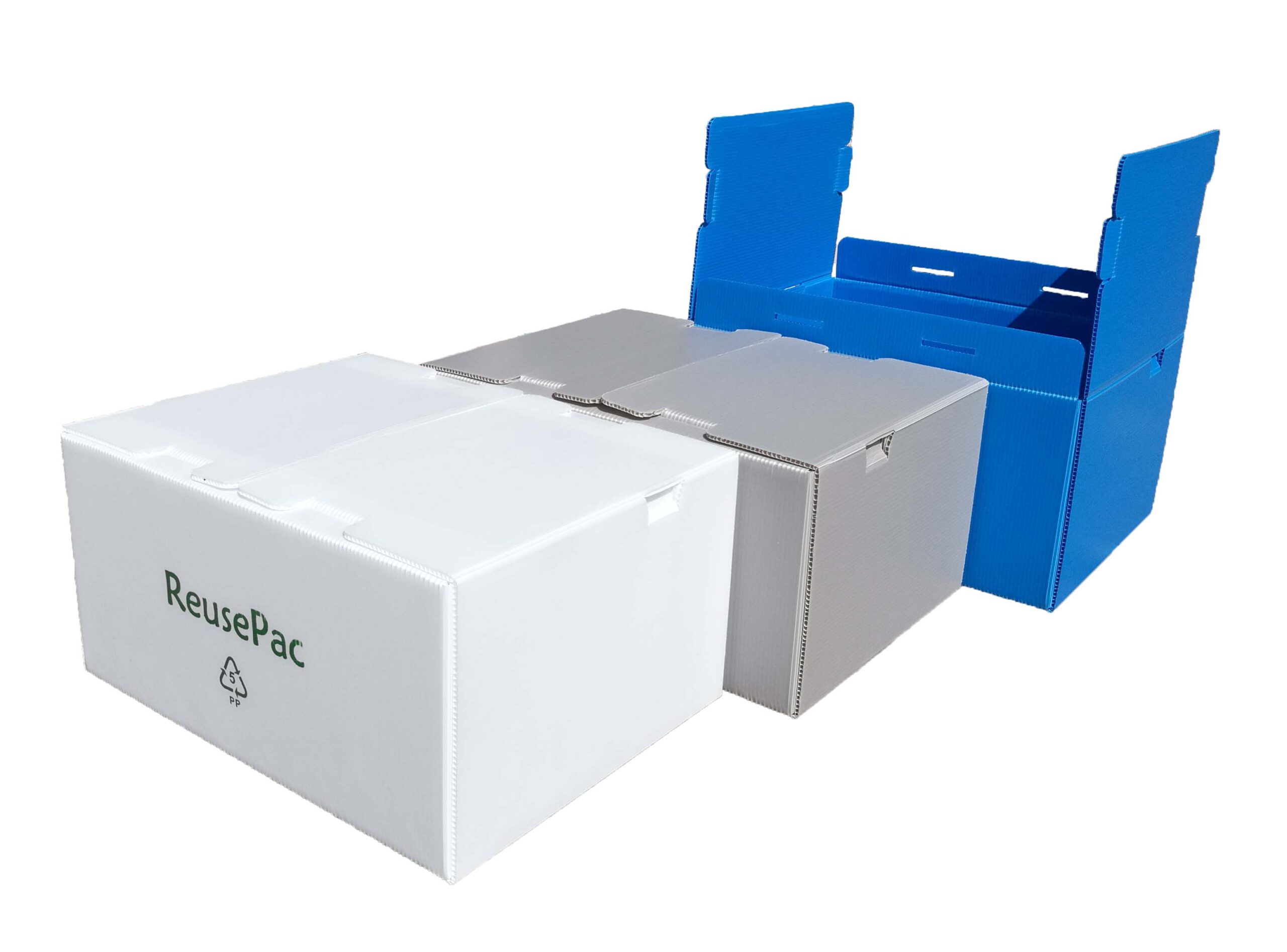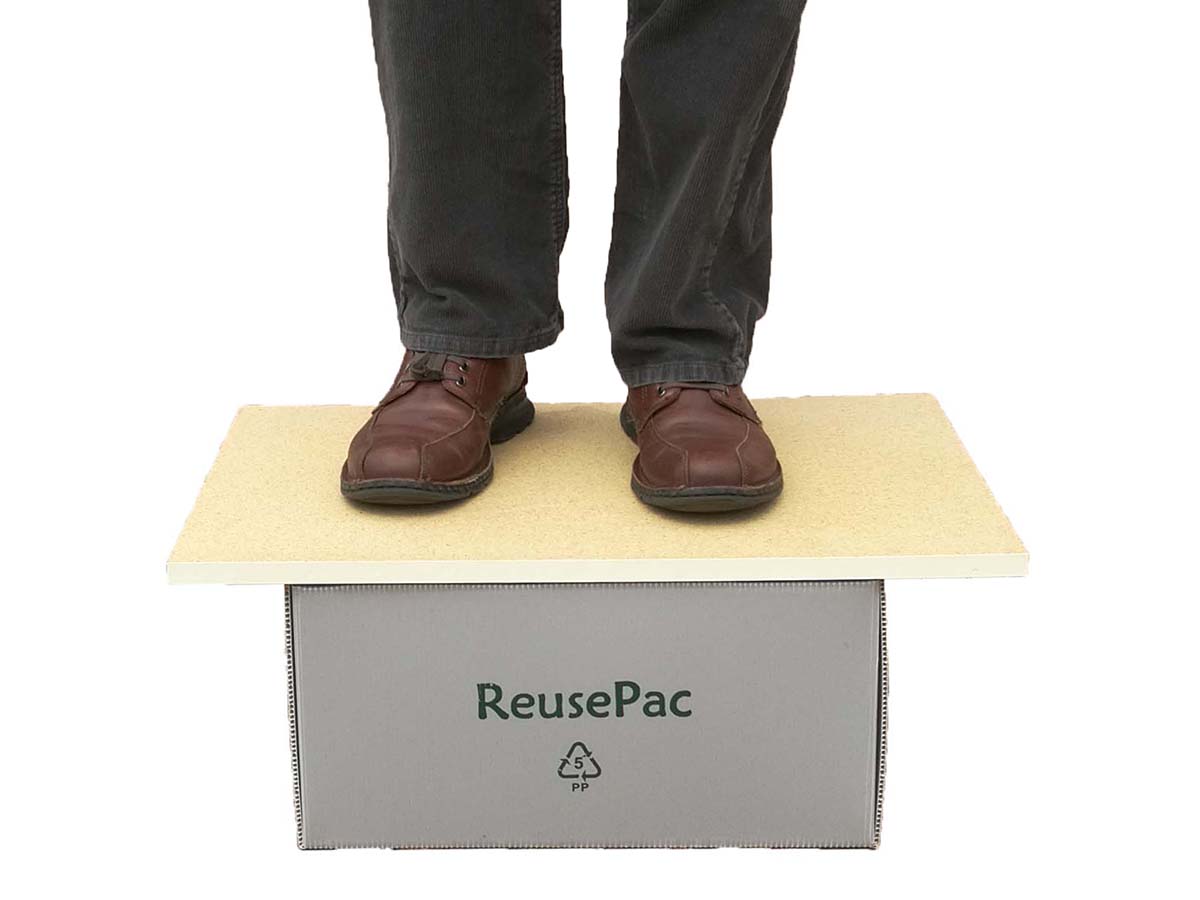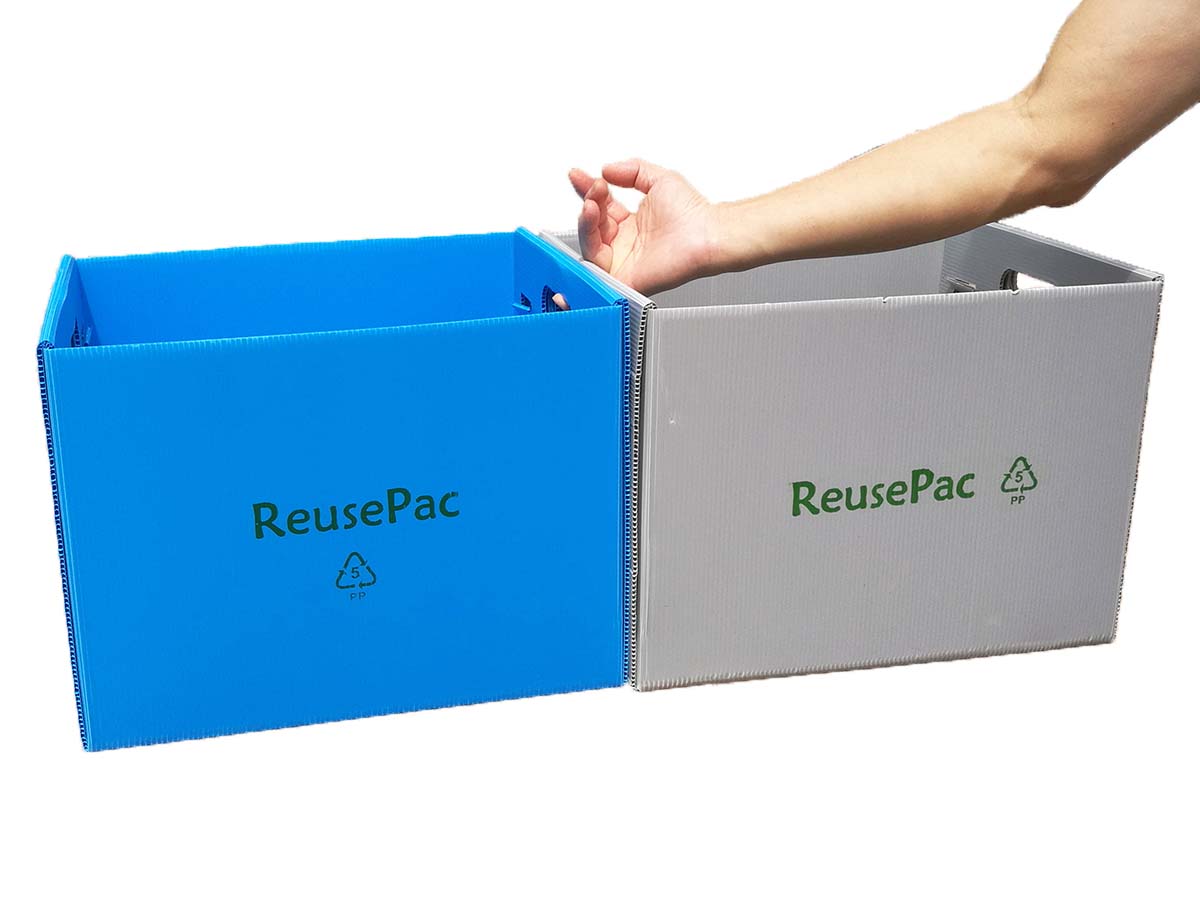 One More Thing:  ReusePac is launching heavy duty boxes that take 250 lb. – 300 lb. stack loads. They are in the same mechanisms and the normal thicknesses of corrugated PP sheets.
Nestable Totes / Mail Totes, Corrugated, Low Costs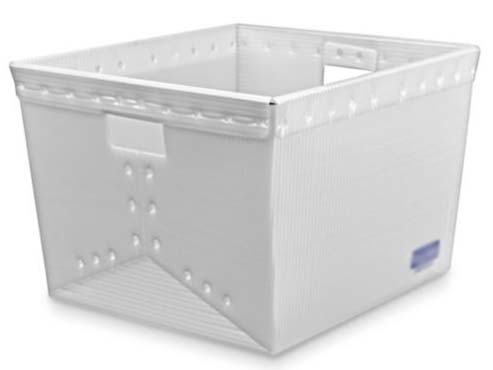 Other mail totes with welds by hands are very expensive. Even worse for online orders to ship a lot of air.
 Same size ReusePac nestable mail totes slash      a half of the prices.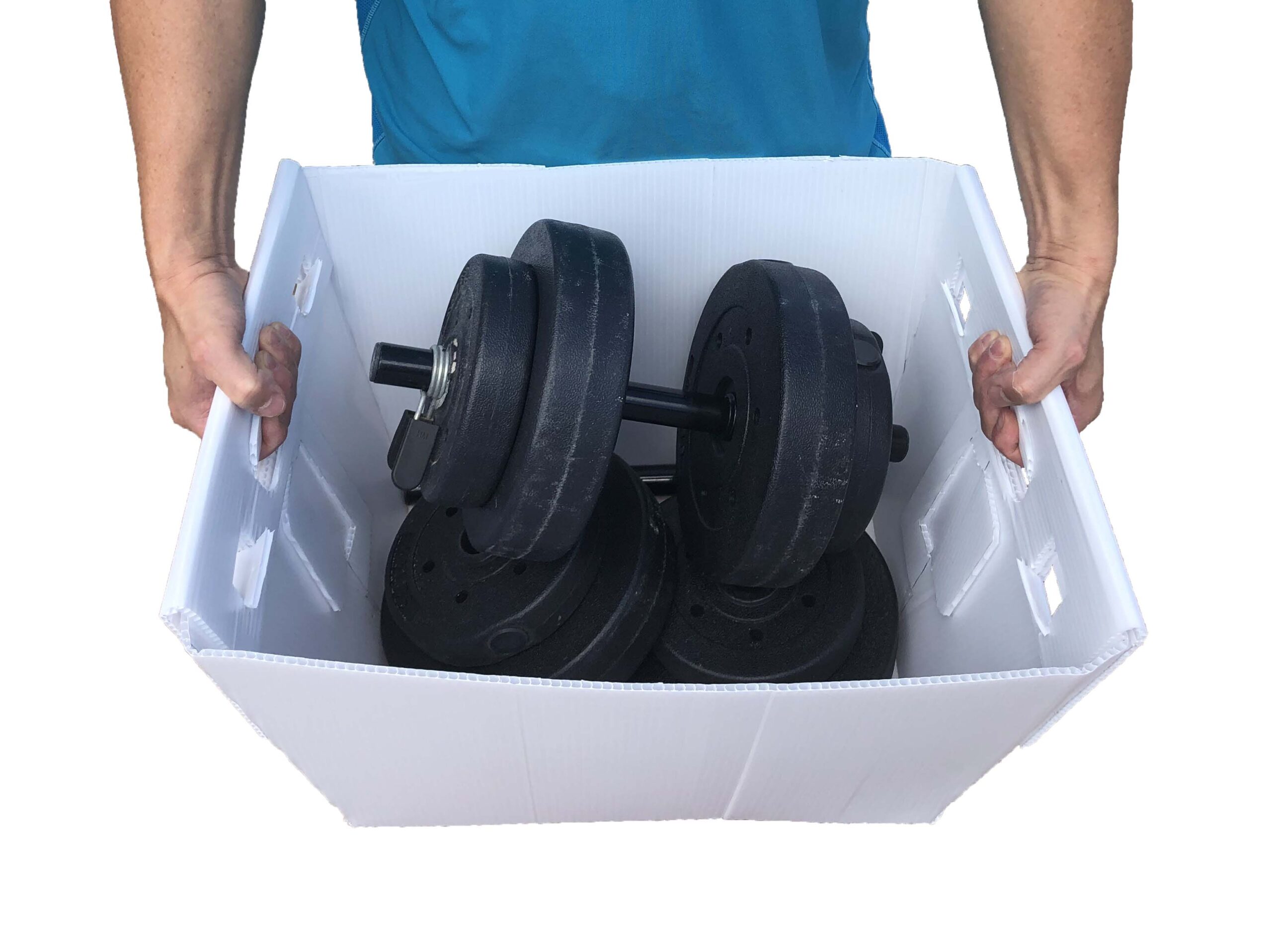 Strong ReusePac mail totes hold 40 lbs. dumbbells. Simple Assembly.
ReusePac innovations introduce low cost & simplified manufacturing, foldable for easy shipping.
Instructions for Use & Product Brochure 
Light Weight, Stackable Reusable Totes, Home and Office Organizer
ReusePac stackable totes are convenient organizers under beds, home, car trunks, and offices.
Three Large Tote Boxes vs. Same Tote Boxes in Small Collapse Folded Pack.
Fold Flaps Inside the Box to Insert Tabs into Slots and Interlock.
Light Weight, Heavy Duty Stackable Tote Boxes with no welds, glues or Accessories.
Interlocked Flap Reusable Boxes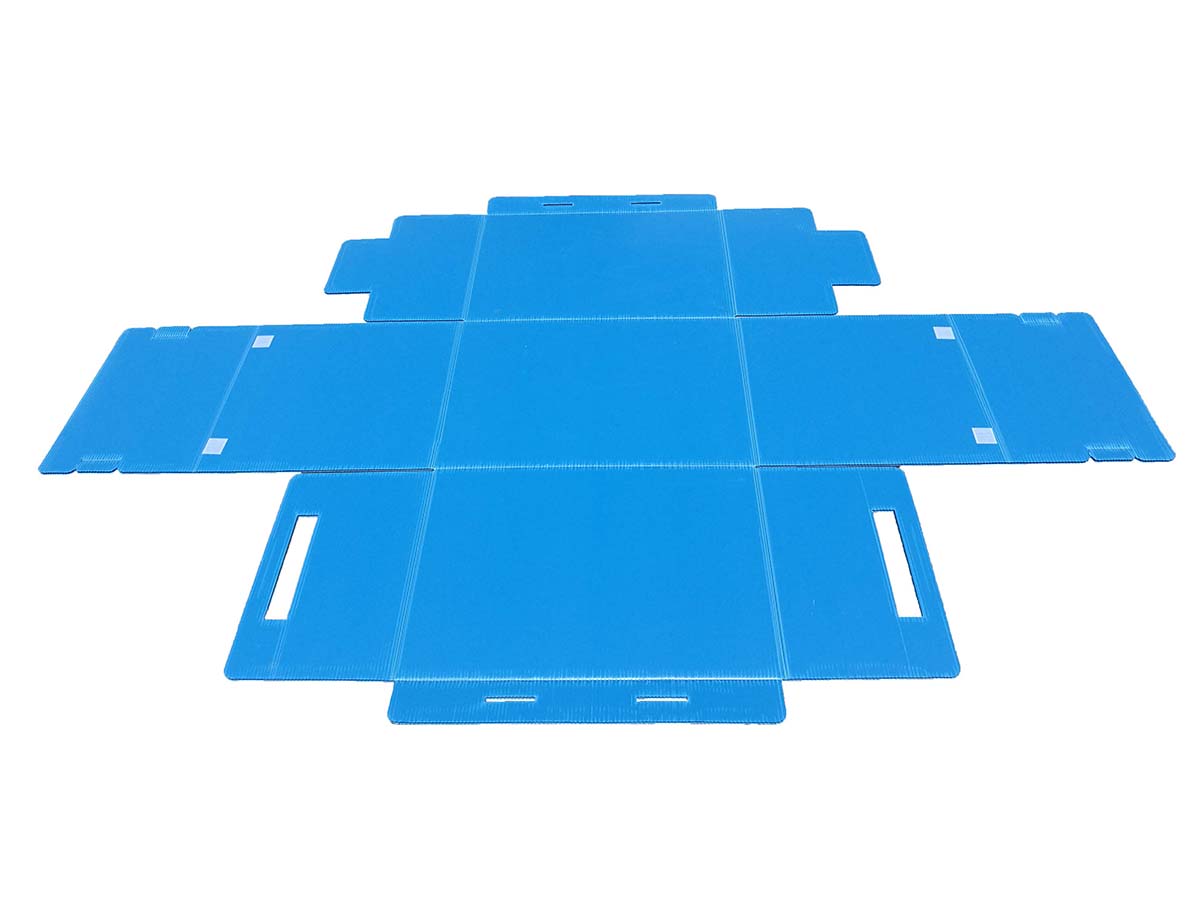 A die cut blank sheet with layouts and fold lines for assembly.
Push upright flaps inward to insert tabs into slots and interlock.  For disassembly, also push flaps inward to disengage.
Pull back interlocked flaps to the sides, lift side panels to lock tightly to flaps.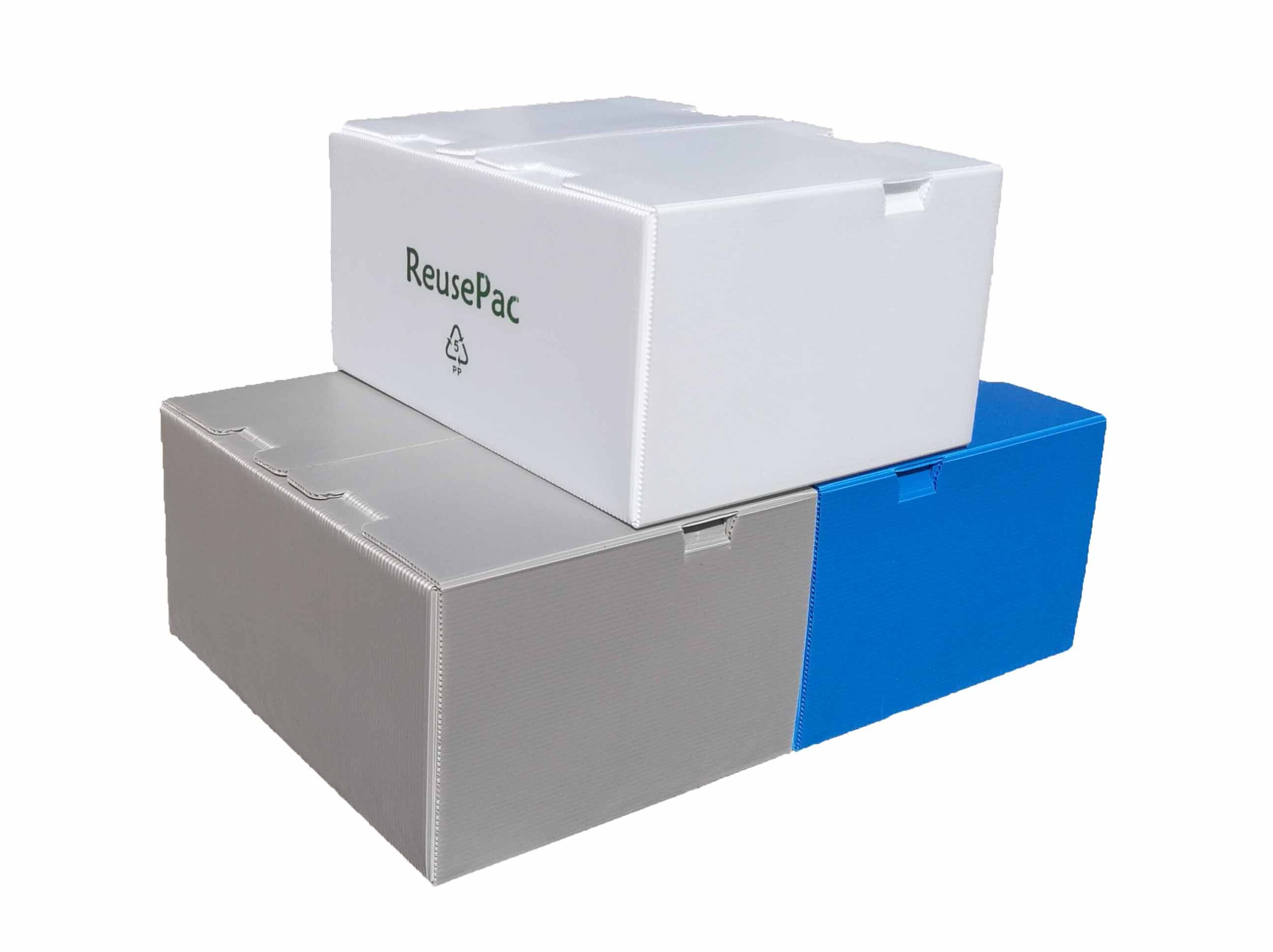 Bind layers by pushing snap fit through.
An standing reusable box and a same size box collapse folded in a thin pack.
Simply assembled, light weight, strong to hold and take heavy stack loads.
Customized Reusable Boxes
We design for your special needs and supply customized reusable box samples quickly.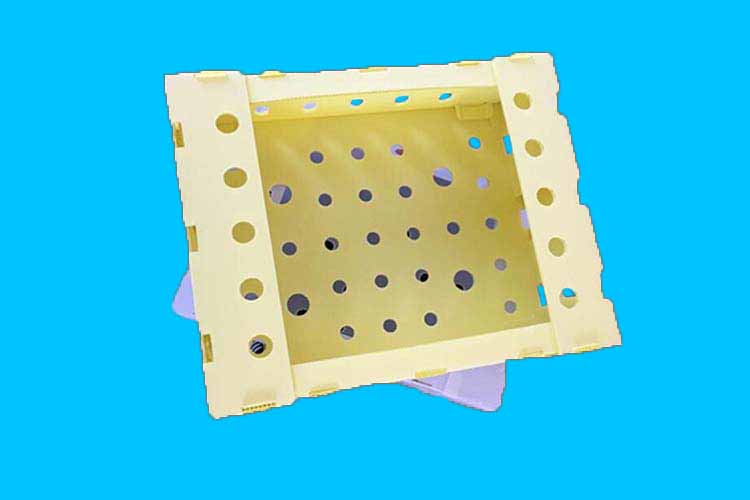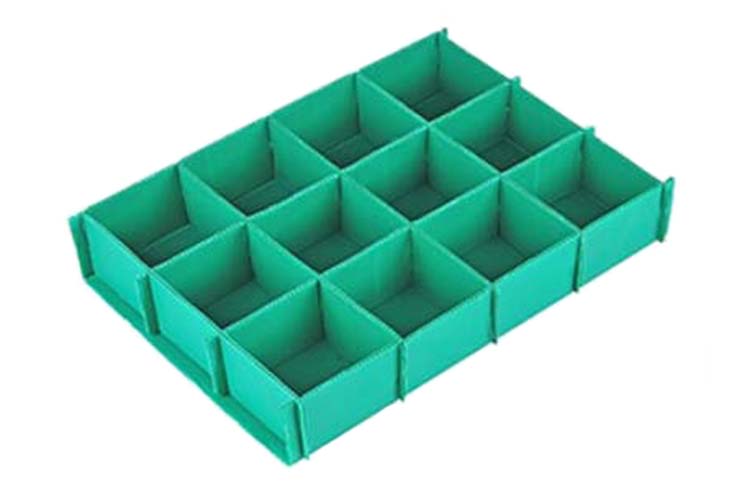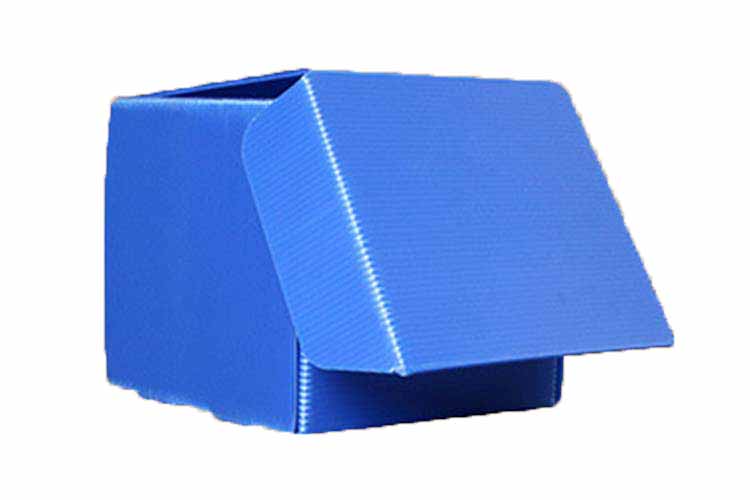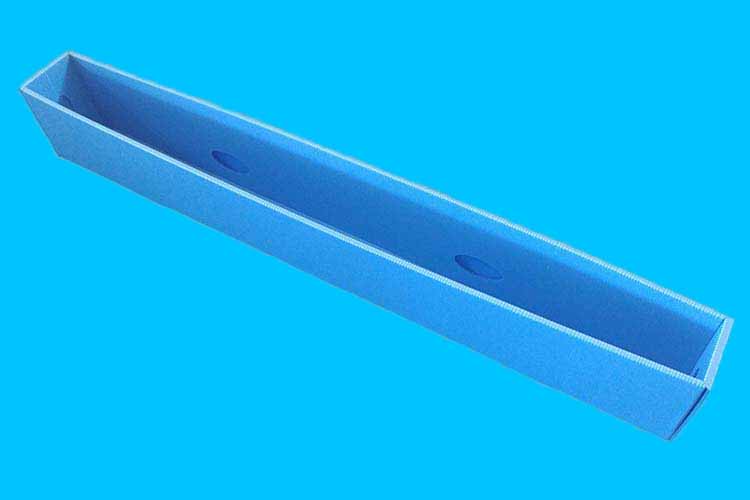 Hollow Rod and C Groove Interlocked Posts for

Bulk Containers / Homeless Shelters
                 The hollow rod and C shaped groove interlock mechanism enhances the structure strength in its entirety.  The interlocked posts at corners stand up against heavy stack loads, significantly reduces the wall thickness, material usage and the weight of entire large containers or shelter homes.
Reusable Fluted PP Sleeve Packs / Bulk Containers / Crates / Homeless Shelters
are based on Rod to C shaped groove interlocked corner posts, strong enough to support heavy stack loads.  Cutting down the wall thickness of corrugated polypropylene sheet from 10 mm to 5 mm, saving great amount of PP materials, ReusePac sleeve packs and large boxes do not need customized pallets, universally sitting on all standard pallets. ReusePac is the cheapest among all types of plastic bulk containers and sleeve packs.
Fold up Opposite Panels First
Lock Rods into C Grooves, Leaving a Half Panel Downward for Loading
Universally Sit on All Pallets, No Need to Use Customized Lids or Pallets.
Opposite C Groove Panels Folded Down and interlocked to the Backside of Bottom
Adding A Roof, It Becomes A Low Cost Rigid Homeless Shelter / Playhouse.
ReusePac Low Cost Homeless Shelters, in Light Weight Corrugated PP Panels
          Are you tired of seeing cluttered homeless tents in cities?  Are the inhabitants feeling comfortable behind the thin fabrics with no much sound barrier or temperature insulation?  Based on Rod to C shaped groove interlocked corner posts, ReusePac is launching shelters made of corrugated polypropylene (PP) sheets, strong yet in thin walls and saving materials, reducing outside noise and weather interference, much cozier than tents.  They look neat and clean, affordable for municipalities and charities to supply better shelters to the homeless population.

Phone: 1 954 445 6498
Fax:      1 954 217 3829
Email: info@reusepac.com
Address:
2562 Mayfair Ln.
Ft. Lauderdale, FL 33327