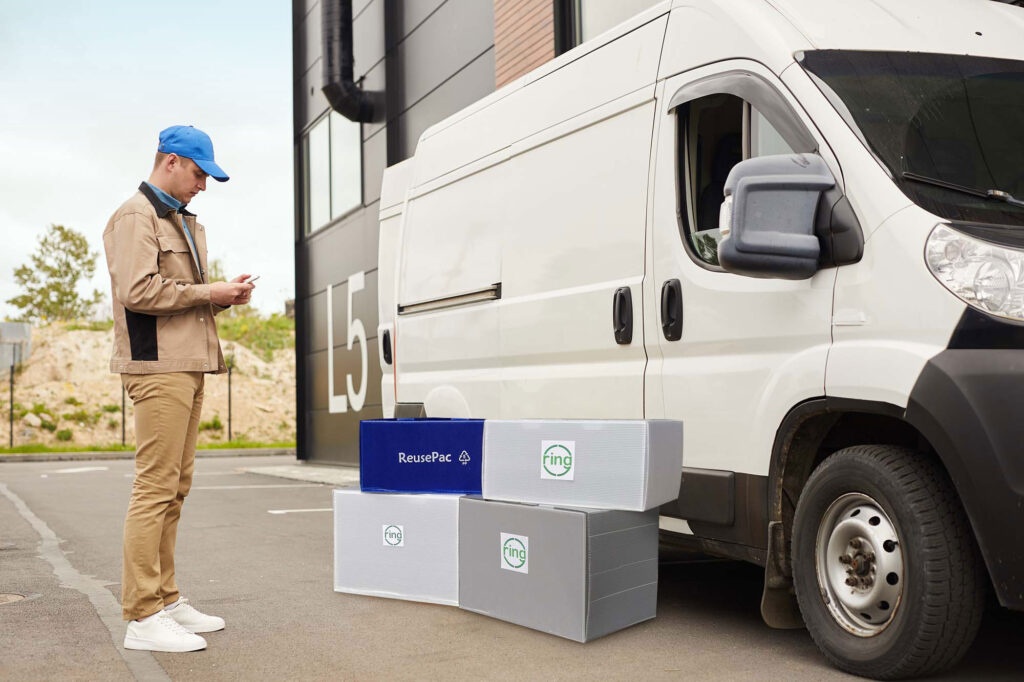 Question: If a box can not be returned, how can it be reused?
Answer: It's a great question, reusable boxes need to be returned for the next time reuse. Circular ring reusable boxes made by ReusePac serve for broad applications in many industries, businesses and consumer market. Thus we list up typical return scenarios on reusable boxes and categorize the return and circulation patterns as follows. There must be at least one fit to your situation.
Personal Use and Families:
I used to have a cardboard box in my car, just in case to hold miscellaneous items in place rather than letting them rolling around. Well, the cardboard boxes top flaps always stay loose. After carrying around some time, I feel that a packing tape is needed on the top. Putting on the packing tape and peeling off the tape tearing the cardboard surfaces and getting messy. Now I've switched to circular ring reusable boxes with self locking top flaps, and the boxes have been used for storage and handling stuff handily for years. In this situation, there's no need to return the reusable boxes, since they stay around with me.
My mom called me once to send her clothes. I simply empty a reusable box used for storage, put in the clothes and mail the box to my mom by postal service. I told my mom to keep the box and reuse for storage or maybe one day use it again to send something to other relatives or friends. She liked it so much. In this situation, even though the box was not returned to me, but I'm happy to see that it continued its trip and served the reusable purpose in someone else hands.
Supply Chains, Suppliers, Producers:
eCommerce:
Mailing and shipping Companies:
Society:
cardboard boxes flattened out in a baler, labor, the amount of time to the baler, to quantify and calculate, many of the value to the point where it's a dollar of savings of supply chain to eliminate one of those boxes and all the value you get between efficiency and labor reduction, shrink reduction. Add all the stuff up, you really talk about significant financial savings to customers.
You touched on eliminating waste and the trips to baler, it also mean fewer trips to landfill. It means that those employees instead of taking trips to baler, are adding value at retail store level, they can be helping customers instead of stocking a shelf by enabling that retail ready packaging.
Similarly we all know that reusable packaging is much more standardized. we touch on automation lately, reusable plastic packaging significantly better than corrugated does or one-way packaging does. It's standard package which means you don't have variability that doesn't flex and shift. It's more ergonomically friendly meaning our customers and suppliers are less risk of getting hurt while moving things, that so many things adds there.
Reusable packaging suppliers and consumers, produce or retail company, resilient supply chain, we're able to add value by taking labor out of equation, by taking waste out of equation, which means we're building a more resilient supply chain globally.
The industry is poised to explode, showing solid payback, the industry saves a dollar for every corrugated that eliminates,